ID5 Circuit Board
Upgrades the circuit board of the QT210F to a more modern design.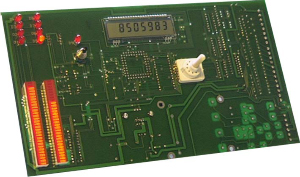 Compatible
Mechanically and electrically compatible with original circuit board.
"Drop In" replacement / upgrade. No wiring or operational changes.
The same circuit board and program can be used for AC or DC, single or twin channel systems. The same program can be used for single and dual channel machines; since empty cycles are not counted the unused channel has no effect on the operation.
Reliable
Noise Immune - 80% of 3rd party faulty boards sent to us from customers failed due to electrical noise spikes, present in many factory environments.
Improved power supply - The 24V (valve and relay) power supply is now regulated, providing more consistent operation over a wider supply voltage range. This reduces coil heating and extends component life.
Increased pressurization range - This reduces unnecessary rejects due to over-pressurization of the bottles.
Improved test algorithm Auto-tuning information is averaged over the last 5 good bottles, instead of a single "rogue bottle" being able to cause rejects for the next few cycles.
Easy to Use
Improved bottle counting. The number failed count now does not count empty cycles. Only
cycles that achieved a significant pressurization are counted.
Several electronic adjustments automated or eliminated:
The transducer zero trimmers have been replaced by software auto-zeroing. When the unit is powered up, the transducer is automatically zeroed. This eliminates long-term drift as well as eliminating a very common setting error. It also eliminates a failure mode where the unit could pass bottles with very large holes due to a permanent pressure offset.
Display contrast control eliminated - replaced by an automatic circuit. A significant number of boards sent back for repair have nothing wrong with them, except thatthe display contrast is turned off!
The test time and sensitivity adjustments are retained and adjusted in the usual way.
More user friendly display format
Leading zeros suppressed - 121 bottles not 00000121 bottles.
Test results for both channels displayed together side by side
This allows easy monitoring of test results without continual switching backwards and forwards to see both results before the next test.
New Design
Industry standard proven components used throughout, all parts in full production by their manufacturers.
High Accuracy Leakage Measurement - Measurement Errors are minimized through the use of a sensitive pressure transducer with a low noise amplifier and high-speed, high-resolution analog to digital converter.