Plastech Control Systems
Company overview & history.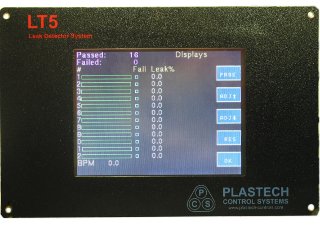 LTU5000 Color Touch Screen Operator Interface
LTU5008 Installation
Based in the UK, Plastech Control Systems Ltd was established in 1995 to manufacture leak detection equipment for the blow molding industry.
We also provide electronics engineering design and manufacturing services for OEMs.
We supply machines to system integrators, OEMs and directly to end-users. While most of our customers are in the USA, we operate worldwide and have a network of representatives.
We are in our 22nd year.
Plastech are active in the following areas:
Leak detection equipment
Collating Tables
Bottle turners
Decollating machines
Conveyor systems
Spin Trimmers
Control Systems
Wall thickness scanning
Bottle handling
Bottle quality control
Customized OEM models
Electronics Design and Manufacture
All products are designed in-house and use the latest technology to ensure highest specification together with lowest possible installed cost.
---
---